The Toyota Camry is an iconic vehicle that has received worldwide acclaim since production began in 1982. It has won numerous awards, on the basis of reliability and practicality. In the class of middle size sedans, it is ranked as one of the highest on the list.
In October of the year 2019, Toyota announced the release of the new 2020 Toyota Camry… and guess what… it is no slouch.
We promised it, and we have finally done it.
Here is everything you need to know to Get-On-Track with the TOYOTA CAMRY 2020!
The Glory of the Crown
The Toyota Camry is one of the best in its class of midsize Sedan. The name "Camry" means "Crown", and it has undoubtedly lived up to the name by leading in the class of midsize sedans.
We took lessons on the history of the Camry and its rise to stardom sometimes last year. To catch up on that click here.
It has a heritage of providing a very roomy cabin and enjoyable ride, one of the best fuel economy rates and a host of active safety features, all with a track record of reliability, and it has done that again.
The Toyota Camry was redesigned for the 2018 model year. The new design is more sporty and has a commanding presence when compared to the other vehicles in its class.
But, the 2020 model is much better!
Engine options 
The Toyota Camry comes with two engine options; 
The 2.5 L naturally aspirated inline 4-cylinder producing 203 horsepower and 184 pound-feet of torque as standard.
This engine option is employed on the: L, LE, SE, XSE, XLE and TRD trims.
It gets an additional three horsepower and 2 pound-feet of torque for the XSE trim.
With this engine, you will get 28 mpg City, 39 mpg Highway, and 32 mpg combined.
The 3.5L naturally aspirated V6 producing 301 horsepower and 267 pound-feet of torques.
This engine is optional on the XLE and the XSE trims.
It is a very powerful engine. However, reviews have shown that the design of the car makes it difficult for the engine to put down the power effectively because it is front-wheel drive. 
This results in a lot of wheel spin in the event of a rapid take-off from a standstill.
It is a good engine upgrade but it is not a necessity. If you are not so bothered about power and the robustness of a V6 engine, the 2.5-litre inline four-cylinder engine will do just fine. It is quite quick and more economic.
With the V6 engine, you will be getting 22 mpg City, 33 mpg highway and 29 mpg combined.
 Transmission
Every Toyota Camry for the 2020 year model is offered with an 8-speed automatic transmission. It has got a manual mode and comes with paddle shifters. It's quite a responsive transmission.
Drive Modes
The Camry has got three Drive modes; 
Eco mode; The eco mode adjusts your throttle input to improve fuel efficiency, thereby giving you a more reserved and smooth driving.
 Sport mode; Sport mode makes the vehicle more aggressive. Acceleration is quick and the throttle response is fast. It may result in less fuel efficiency, but it makes driving so much more fun.
 Normal mode; Normal mode will get you the best of both worlds. You get good fuel economy and quite an amount of performance from your engine. So, why not just stick with the normal mode? Just saying…
What's new in the 2020 Toyota Camry?
1. All-wheel drive
For the first time since 1991, Toyota is offering the Toyota Camry with an all-wheel-drive option. 
This option is, however, only available with the 2.5-litre inline 4-cylinder engine. An all-wheel-drive Camry? How cool is that?
You no longer have issues with bad weather or bad roads in your family sedan.
2. Now standard with Android-auto smartphone compatibility.
The release of the new generation Camry 2018 came with Apple Car-play compatibility in its infotainment system and seemingly left out the android users. 
Well, there's good news, the 2020 Camry comes with both "Apple Carplay" and "Android auto" making it easier for Android users to pair their phones to their cars, availing them the opportunity to use Google Maps, their phone media etc.
3. The new performance-oriented TRD trim
 Toyota Racing Development (TRD) have laid their hands on some Camrys. 
The TRD models have
19-inch alloy wheels with red-painted brake callipers
They have black and red leather interior with the TRD badge on the seats and the seatbelts.
They come with dual cat-back exhausts that have been specially tuned for the V6 engine (that is the only engine option for the TRD) enabling it to produce a little more power, and giving you eargasms while doing it.
A more aggressive exterior styling
Red guages because fast cars are red.
A sporty-red stitching on the leather wrapped steering wheel steering wheel; to fire you up.
full winged spoilers, a rear diffuser, aggressive bumper flares, and chrome-tipped exhausts, all contributing to a very aggressive look.
 Things to love about the Camry
1. The 2.5 litre 4-cylinder engine is tested and trusted as it has been in production since 2018. It delivers good fuel economy and is reliable. Remember, it's a Toyota.
 2. Plenty of cabin and cargo space
 The Camry can be best described as a room on wheels. There's enough space to fit 3 six-footers in the rear while seating six-footers in the front seat too. It is a family sedan.
The trunk is quite large varying between 14.1 cubic feet to 15.1 cubic feet, depending on the trim, but when compared to its competition; the Accord and Mazda 6, it's not as large.
3. Good seats, steering and visibility
The seat of the car we are very comfortable and are either leather or cloth seats depending on the trim level; making long-distance travel very desirable in this car.
The visibility all-round the vehicle is top-notch.
The steering is also perfectly placed; it is neither too heavy nor is it too light.
Things to dislike about the Camry.
 1. The infotainment system is old and difficult to use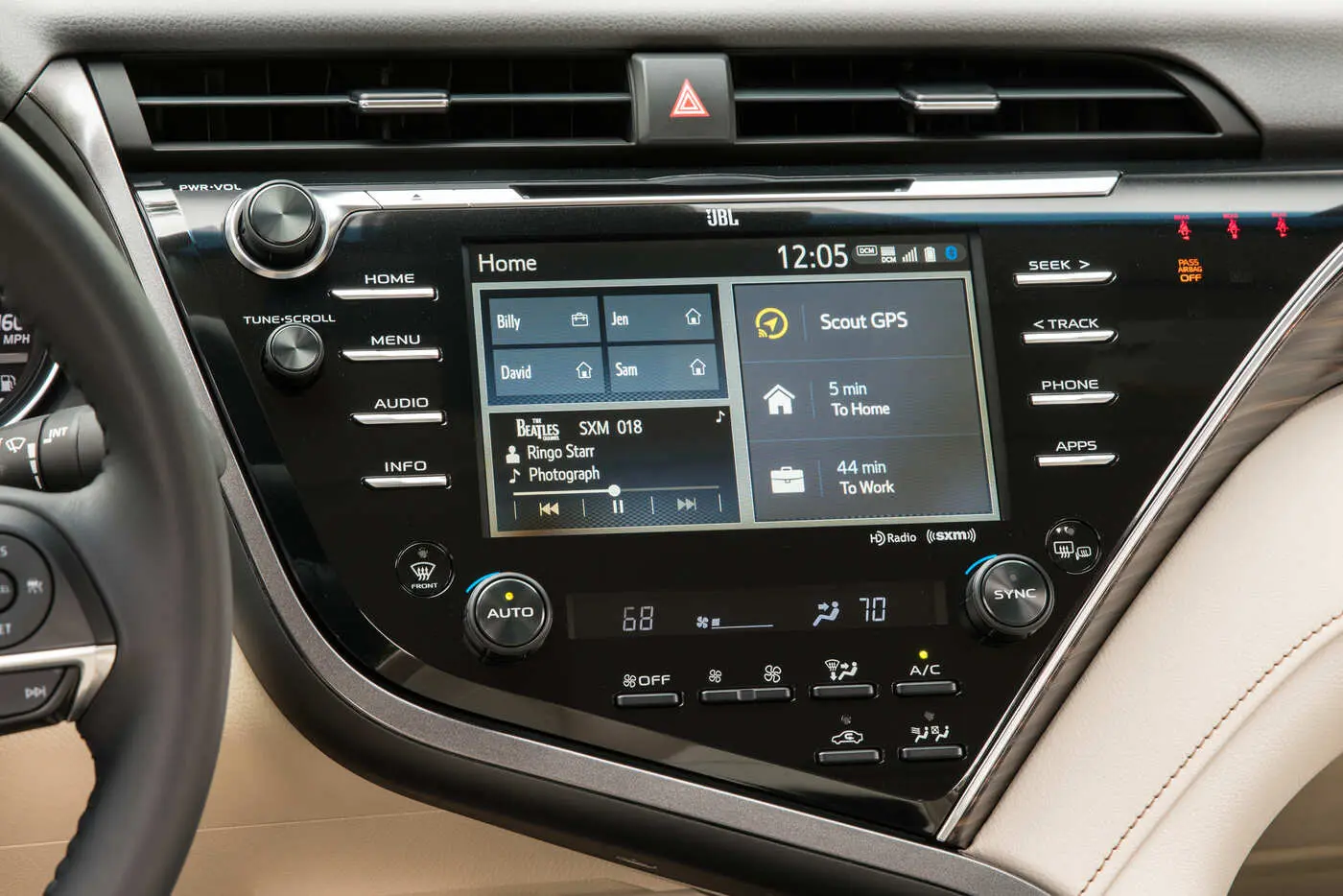 Toyota needs to do some upgrading on the infotainment system because it looks backdated and it's quite difficult to use. Apart from that, sometimes you get glitches… but hey, you have apple car play and Android auto, just use it.
2. Unrefined and loud engine noise during acceleration
Except for a few of us who love getting feedback from our engine, in the form of noise, when driving, you would most probably want a seamless and silent driving. If you fall in that category you might get annoyed when you try to accelerate sharply with the Camry. Don't say I didn't want you.
Excluding that, it is well insulated from road noise.
3. The advanced driver aids like adaptive cruise control and lane-keeping assist can be overly sensitive.
Standard safety equipment on every Camry includes adaptive cruise control, automatic emergency braking with pedestrian detection, automatic high beams, and active lane control. Blind-spot monitors are optional on some trim levels.
Adaptive cruise control in the Camry is not as refined as those in the competition, like Honda Accord and Mazda 6. It leaves too much space between you and the vehicle in front of you making it all the more boring and dangerous to use, and vehicles tend to overtake you.
And in an event when they overtake you, it brakes very sharply making you a risk to other road users. Toyota needs to work on that.
 Price
The Camry starts out at just over $24,000
The L trim, which is the base model, starts out at $24,425.
The SE costs about $26,170
The XLE costs about $29,455
The top end of the line is the loaded XSE, which costs about $35,130.
How good is the Camry?
The Honda Accord, Mazda 6, Hyundai Sonata all offer different combinations of nicer interior styling, better base model performance or enhancements, or more value for money. If you do not agree with me, feel free to fight me in the comments.
But, the Camry, being a Toyota, and known for its history of reliability and loyal customer base will still be a top choice among those shopping for family-friendly sedans.
What Camry should you buy?
If you want to get a Camry, you should know this:
The L and LE trims are good value for money, but the best of them all is the XSE trim.
With the XSE, you'll get a nice sporty styling, a sport-tuned yet comfortable suspension,heated front seats, leather upholstery, and a 9-speaker JBL audio system.
That's value for money!
For more inquiries, you can send us an email at iknowmotors@gmail.com.